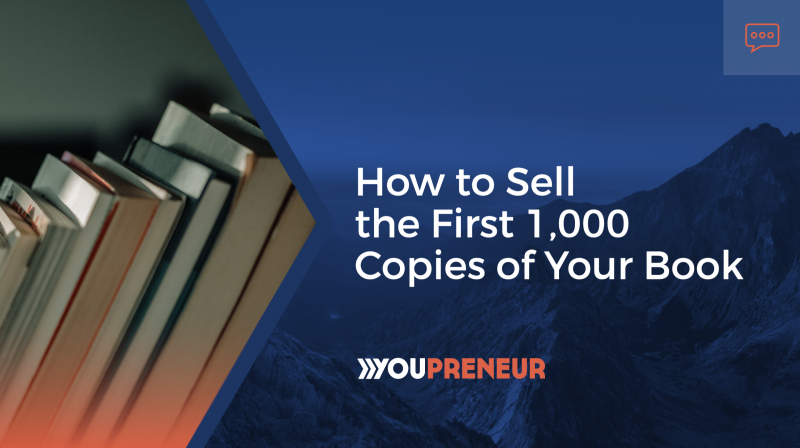 We're bringing it down a notch or two when it comes to book marketing. We're going to be focusing on how to sell your first 1,000 copies. See, once you've written the book, it's time to roll up your sleeves and really start marketing it yourself. While it's easier to become a published author today, getting your book out there is still a challenge.
I spoke with Tim Grahl about what it takes to sell your first 1,000 copies. Whether you're self-publishing or going traditional, I want to open your eyes to the way an author markets their book. For you to sell this book, you're going to have to do it yourself.
Once you have a platform, there are certain things you can do to make sure you sell your book on that platform. A book will ultimately go places you could never go. Selling your first 1,000 copies is very attainable, however, most books don't sell more than 250 copies. If you do things right, selling your first 1,000 books is completely possible.
Once you've written a book, it's time to roll up your sleeves and really start marketing it yourself. While it's easier to become a published author today, getting your book out there is still a challenge. #Youpreneur
Click To Tweet
1. Market for the Good of Your Audience
Nobody buys books for the author, they buy books for themselves. When you don't give your audience any way to connect with you and find out about new things you're doing, they're going to be frustrated with you.
Your job as an author is to get as many people as possible to buy your book, not just for yourself, but for the good of your audience. Even if your audience has heard your content before, there's something about having it bound from start to finish. They're buying it because they want to have it.
If you can go outside your immediate network and bring value to people who don't know you, that's huge. You are ultimately making the world a better place one book at a time. Keeping this in mind frees you up to do marketing because it no more feels like a sleazy, sales thing.
2. Share Book Content
As you're writing your book, share what you're learning. When you do this, you get people interested in the book and they'll want to read it when it comes out.
What works over and over to sell copies of books is to share it. You have to give away enough content from enough different angles that it will grab different people's attention. Bump up the number of emails you send your list and focus on giving away more content from your book in many different ways.
Excerpts are sometimes hard to share because of the context that has to go around them. You could give away the introduction, the first chapter, or a video teaching from the book. The more you give away, the more people are going to want to buy the full thing.
Unless you are Stephen King, your biggest fight is obscurity, not people stealing your content.
3. Make Sharing Your Book Easy
How can you sell as many copies as possible to the people you're connected to? This is the first thing you want to think about with the book launch. Anywhere you're connected to fans, look at how you can entice them to buy your book.
Then, make it easier for your fans to share the book with their friends. You have to give really clear direction on how they can help you share the book. If you can come up with fun or interesting ways for them to share, they'll do it. Make it easy for them to share on social media with copy and images from your book.
Engage with influencers to help you promote the book. Fans are people who will buy your book; influencers are people who will get people to buy your book. You want to connect with other people who will genuinely influence their fans to buy your book.
The goal is for your fans to buy as many copies as possible, share it with their friends, and get it to influencers who will continue the cycle.
4. Put Relationships First
When you work with influencers, you want to start by thinking of them first. This is where so many authors make mistakes.
People who run podcasts need interesting guests. What could you talk about that their fans would be interested in? It's not about you getting on there to promote your book, but you helping that podcaster provide value. This is no quid pro quo. It's old-fashioned relationships.
Start by having the right attitude. A lot of people you reach out to aren't going to answer your emails, and that's OK. They have other important stuff going on.
If you get creative about this, you can find all kinds of fun ways to do this where it's a win-win situation for everyone involved.
Chris founded Youpreneur® in 2015. He is a serial entrepreneur, keynote speaker and author of the bestselling books "Virtual Freedom" and "Rise of the Youpreneur". He hosts our weekly podcast, Youpreneur.FM, as well as our annual conference, the Youpreneur Summit. Chris is based in Cambridge, UK.