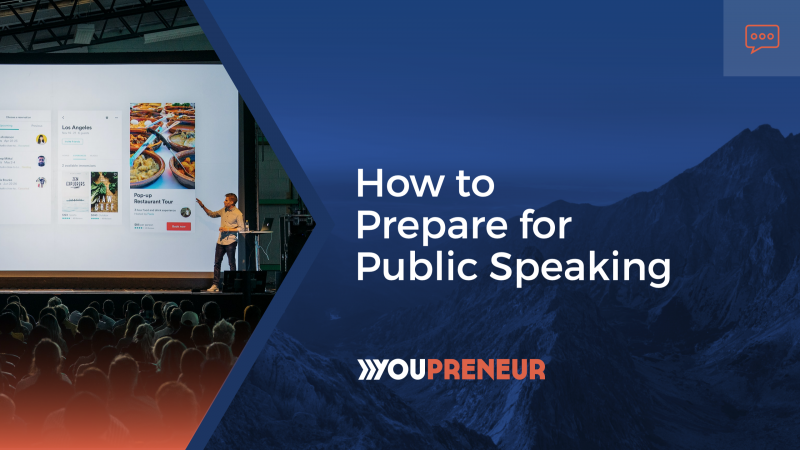 Are you ready to take your public speaking ideas and goals to the next level? I know a lot of you are contemplating either starting your public speaking career or taking it up a notch or two. That's why I'm sharing this quick start guide to becoming a better public speaker or maybe just becoming a public speaker.
1. Preparation is Everything
First and foremost, let's talk about the speech itself. Your preparation is everything. Nothing will lose you more future opportunities as a speaker than being unprepared, getting up on stage and acting like a complete jackass. You've got to understand that with every speech you put together, you're going to spend a lot of time in prepping it.
I will say, however, you must resist putting together a session or a speech you don't want to do just because event organizers offered you the opportunity. If it's not something you get excited and passionate about when you imagine delivering it in front of an audience, say no. The chances are it's not going to turn out that great anyway.
Resist putting together a speech you don't want to do just because event organizers offered you the opportunity. If it's not something you really get excited about when you imagine delivering it in front of an audience, say no. #Youpreneur
Click To Tweet
2. Nail the Introduction and Closing
Your introduction and your closing are probably, for me anyway, the two most important parts of any speech. You've got to start with lots of energy. You're setting your audience's' expectations for you right out of the gate, so be on fire for the first 5-6 minutes or so. Then you can dive into your major discussion points and add value. Then, toward the end, you've got to bring them back up and go into your conclusion. Never leave an audience hanging. You've got to close things up properly. Don't take out your ending or conclusion to the speech. Make sure you've got something cool in place.
3. Present with Intention
When you're speaking in front of an audience, use your voice the best way you possibly can. Vary the pitch of your voice, the rate at which you're delivering, the volume of your voice, the tone, the words — everything. Your voice is what helps you deliver a powerful speech and makes the difference on stage. It's not your clothes. It's your voice. Likewise, try to establish eye contact with your audience on a regular basis throughout your presentation. Don't just keep looking to one particular area. Look around.
Don't be one of those speakers that will pace backward and forwards across the entire stage. You want to move around, but don't go backward and forwards like you're in some sort of army drill or something. Go to the right, stop, and deliver a certain section. Come back to the middle, do the same there and so on. Body language is everything. If you think you're going to have, a bit of a pacing problem like a lot of first-time speakers do, request a podium on the stage. If you have a podium there with the only microphone attached to it, you're going to be trapped behind that podium, which is kind of bad, but it's also good particularly at first because it will enable you to really go ahead and just stand in one position and deliver your speech properly.
4. Be Smart with Visual Aids
Next, let's talk about your powerpoint presentations. Some speakers decide not to use any slides. They might just have a couple of photographs throughout an entire 45-minute keynote. That's fine, but when you start working on your public speaking, and you want to take things the next level, consider your slide deck. I still use a lot of slides now because I like the idea of using visual aids. But understand that it's not for everyone. From time-to-time, you might want to have those visual cues to keep you on track.
Please stay away from bullet point hell. This is not 1990. You don't want to get involved with that stuff in any way whatsoever. You should practice your speech and know your session well enough not to need every single point you want to make on a bullet point slide. You probably want to stay away from too much text in general. For the love of everything that's good and holy, stay away from spelling errors. There's absolutely no need for it. When I see spelling errors on slide decks, it makes me cringe, literally.
Now I will also say, be prepared with your visual aids. If you have your laptop and you can be presenting from your laptop, do not expect for a single solitary second that the event that you're performing or presenting at will have the adaptor needed for your computer to attach to their AV equipment. Don't assume that at all. I've seen many, many speakers make this mistake and they screw up their entire presentation because of it.
5. Think Breathing, Not Booze
There is a right way to handle stage fright, and there's the wrong way. The wrong way is by doing things like drinking before you get on stage. Number one, it's going to dehydrate you. You don't want a dry mouth on stage. Stay away from booze and pills to settle your nerves. What you want to try and do here before you get on stage is work off that nervous energy by going through some breathing exercises. You can just type in "breathing exercises for speakers" on YouTube. You're going to learn a lot by just watching a few of the videos on there.
One of the things I do to get myself all pumped up and ready to rock and roll on stage is listen to a song. It's always the same song before I get up on stage. About 15 or so minutes before I'm about to hit the stage, you might see me walking around with a headset on. That's me listening to the same song every single day. It's a song called "Burning Hot" from the Rocky IV soundtrack, and it's an amazing song. I can hear it in my head now. I'm ready to jump on stage and perform for you guys right now because of that song. Sylvester Stallone has no idea what he was doing, putting those movies together for us public speakers. There's so much motivation in them.
Anyway, that's my little quick start guide here to getting better prepared for your next public speaking engagement. You have to be prepared. You have to have the right kind of visual aids. You have to know how to act on stage. It's a performance that when done right will blow everybody away every single time you stand in front of an audience.
Chris founded Youpreneur® in 2015. He is a serial entrepreneur, keynote speaker and author of the bestselling books "Virtual Freedom" and "Rise of the Youpreneur". He hosts our podcast, live events and coaches our clients inside the Youpreneur Incubator. Chris is based in Cambridge, UK.