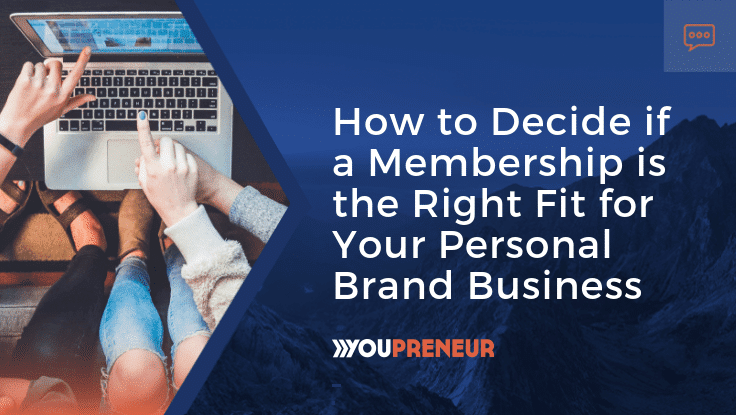 Whether you already have a successful personal brand business that you're looking to expand, or you're just starting to consider how you can monetize, you may have thought about creating a membership site.
And it's no surprise really – membership sites are everywhere these days, from Youpreneur Academy to memberships teaching everything from copywriting to bass guitar playing.
If you're not entirely sure what we mean when we say membership site however, then while there are many variations, the typical membership model for a personal brand or online business will be where you provide some form of premium training/educational content alongside a community, and access is only available to members who pay an ongoing subscription.
While the membership model itself is not new, it's certainly a lot more visible now, and with good reason.
A membership site can be one of the best ways to scale your business so that you're not just trading time for money. And importantly memberships also provide the holy grail for many business owners – recurring revenue.
The idea of starting each month knowing that you already have a certain amount of income guaranteed, even if you don't make any new sales or get any new customers, can be incredibly powerful. And while memberships aren't the only option for recurring revenue, their one-to-many model makes them one of the most appealing options.
However, as tempting as diving straight into creating a membership site can be, it's not the right fit for every business, and despite what you may have heard recurring revenue is also not the same thing as passive income – there can be quite a bit of work involved!
So if you're thinking about creating a membership for your business, then consider the following 6 questions first:
Do You Have Knowledge Or Skills That Others Will Pay To Learn?
This is the big one! Do you actually have knowledge, skills, information or expertise that you can teach others to enable them to fulfill a particular goal? Can you teach people how to write awesome copy for their website? How about how to set up their first blog?
You undoubtedly have some form of skills and knowledge – but what can you offer that people will actually pay for?
You don't need to be the leading authority on something to teach it to other people, you just need to be more advanced than the people you're wanting to teach. If you can offer value and get people where they need to be, you're off to a great start.
Now, not all membership sites do require you to be a teacher, although that is the most common model. You could set up a community-based membership where you're simply bringing people together around a common topic for example, or you could curate others information or bring onboard guest experts to teach content.
The most important thing is whether you have something that people will pay for an ongoing basis.
Do You Want to Better Leverage Your Time?
With many other business models, you'll usually find yourself playing the game of trading time for money. And there comes a point where you've either reached the limit of time available to you, or you simply don't have the resources to take on additional work.
If that cut-off point occurs before you hit your income goal, then you're left with several options:
Expand your team
Raise your prices
Create a product
Not everyone wants to expand their team, and when you factor in payments to additional team members it may not be the best decision. Similarly, it may not be suitable for you to raise your prices right now, or that still might not give you the income that you want.

Creating a product, on the other hand, gives you a valuable asset that you can make money from on an ongoing basis.
And if that product is a membership site, you have the potential to add stable recurring income to your business – and to increase that recurring income every month – without having to work all the hours possible to do so.
So, if you're looking for a way to better leverage your time and get out of the time for money trap, a membership site should definitely be on your options shortlist.
Do You Enjoy Being Part of Online Communities?
You might not think about this initially, but it's actually really important. If you prefer to talk to people over the phone or face to face, try to avoid email and definitely don't like hanging out in Facebook groups or other online communities, then I'm going to suggest a membership site might not be right for you.
Membership sites are all about online communication, and usually, have a heavy community element involved as well. If the thought of that sends you cold then a more passive approach such as an ebook or standalone course might suit you better.
As part of this, I'd also say that if you've never actually been part of a membership site yourself, join one. Heck, join two or three! You can't really know if a membership site is for you if you've never actually seen how they work before. So, before you go any further, dip your toes in the membership site pool and see if you like it from a members point of view.
A side benefit of this is that being part of other membership sites also gives you a glimpse of the different ways that memberships can run, which can help you establish the type of membership site that you want yourself.
Do You Enjoy Creating Content?
Your membership site will usually need to have some kind of ongoing content and this could be video lessons, templates, mini-courses, coaching, live webinars…you can use pretty much any kind of content that is suitable for your topic.
The important thing is that you actually enjoy creating that content and that you can carry on creating it indefinitely. Does the idea of creating content that helps others to get results fire you up? Or does it feel like it's going to be 'yet another thing on the to-do list'?
Now, to a certain extent, you're in control of the kind of content you create and the amount of content. And there are memberships that are mainly community-based, or that don't need regular new content. So content isn't everything, and there's a reason the saying goes 'people come for the content and stay for the community'.
However for the majority of sites, if you're asking members to pay monthly, they're going to be expecting you to deliver value each month. And your content is the main way to do that. So, can you deliver ongoing content to your members month after month?
It's also a good idea here to consider how much content you can actually create on your chosen subject. Make a list of all the different topics that you could cover – if you were to cover one topic a month does that list give you enough content for at least a year? If not, you might be better off creating a fixed length course instead.
Are You in this for the Long Haul?
It's important to know from the outset that a membership site is an ongoing commitment and you need to be in it for the long haul if you really want to make it work. You need to be prepared to show up for your members month after month after month.
Memberships are a marathon not a sprint and if you're looking for a get rich quick option, a membership is not a good choice.
So, think about whether you're ready to actually commit to this idea on a long term basis – will you still want to be running your membership in 6 months? 12 months? 2 years? 5?
While you certainly can make changes to your membership as time goes on and nothing is set in stone, you don't want to mess your members around or cause confusion over your offering. And it's definitely not ideal to shut your membership down!
You don't need to have a 5-year plan for your membership site, but you do need to know if it's something you'd be happy doing for a long time, not just with your content creation as mentioned above, but with actually serving your members as well.
Are You Actually Doing It For The Right Reasons?
While membership sites are often touted as passive income, that's not really the approach that is needed to make your site successful. The best membership sites provide an ongoing exchange of value, and that doesn't fit with a 'set it and forget it' attitude.
So, if you're thinking of creating a membership site because you want to make a lot of money quickly, and with very little ongoing effort, so that you can move to Thailand and drink Mojitos all day, then I hate to break it to you but a membership site isn't really for you.
But if you want to share your knowledge and expertise with a wider audience who could really benefit from what you're teaching them…
If you love the thought of being an online educator or of growing a community of like-minded individuals…
And you'd like to make good money while you're doing it and have more time to spend with your family or doing things you enjoy, then a membership site could be just what you're looking for.
Still Not Sure If A Membership Is Right For You?
After reading through the above questions you might be left thinking:
"A membership site sounds awesome, this is exactly what I want for my business" or "Hmm, I don't think membership sites are for me right now"
If it's either of those answers then great! My work here is done.
But you may also be left thinking that a membership sounds like it might be a good idea, but you're not 100% sure. Perhaps you're not sure about creating content or running a community, or whether your audience even wants a membership site.
If that's the case then I'd highly recommend creating a course or a minimum viable product (MVP) first, before jumping fully into a membership site.
You could even start by creating a free Facebook Group if your concern is whether there is an audience for your topic or being unsure you'd enjoy running a community.
Creating a smaller product first will allow you to get comfortable with content creation, test out whether there is an audience for your topic and even help to formulate a clearer picture of your eventual membership site.
Plus it gives you a valuable asset that you can use to build your audience, giving you a highly targeted group to launch the membership to. So it's a win-win!
If you do decide that a membership site is a right model for you, then you'll find that they are an amazing way of better leveraging your time and expertise and helping a lot more people than you could on a 1-1 basis, all with the added benefit of providing some great recurring revenue for your business!
Creating a smaller product first will allow you to get comfortable with content creation, test out whether there is an audience for your topic and even help to formulate a clearer picture of your eventual membership site. #Youpreneur
Click To Tweet
Chris founded Youpreneur® in 2015. He is a serial entrepreneur, keynote speaker and author of the bestselling books "Virtual Freedom" and "Rise of the Youpreneur". He hosts our podcast, live events and coaches our clients inside the Youpreneur Incubator. Chris is based in Cambridge, UK.