As an author, sometimes it feels like you spend more time marketing than you do writing. You can write the best books, but if nobody reads them, you won't make any money. 
There's so much to learn when it comes to marketing, particularly when it comes to leveraging your mailing list as a sales tool. In this article, I'll let you in on three secret marketing techniques that are surprisingly easy to implement. 
Don't be mistaken though, there's no silver bullet that'll instantly turn any author into a bestseller. These marketing tips will level up your business and boost your book sales. 
Launch Your Book With Newsletter Swaps and Book Promo Sites
It's so tempting to hit publish as soon as you're done with edits and you have the final copy sitting in front of you. A strategized book launch, however, will get more done for you. 
You don't need an over-the-top launch, but you do need something to drive early sales. I'm going to fill you in on two simple ways you can leverage other people's email lists for your next book launch. 
Newsletter Swaps

Book Promo Sites
First, we'll look at newsletter swaps. An engaged email list is one of the biggest assets you can have in your business. If you already have an email list, you can begin to take part in newsletter swaps. 
Basically, a newsletter swap is when multiple authors–usually in the same genre–promote each other's book to their email lists. These emails usually include a cover image and a short blurb about the books. A newsletter swap is also a great way to build your email list without being too pushy…
There are two main reasons I love newsletter swaps as a way to launch your book: 
You can leverage someone else's list to promote your book

When your book is recommended by an author, it gets their stamp of approval. For instance, I'm a huge Malcolm Gladwell fan, and if he mentioned a new book in a podcast episode or email I'd likely buy it. 
You can find newsletter swaps by spending some time in Facebook groups and other places online and cultivating relationships with other authors in your genre. 
Or, if you need it done quickly, you can use StoryOrigin.
Story Origin is an all-in-one marketing tool that includes an email swap feature. You can schedule swaps and promos with a bunch of different authors. 
You can browse authors in your genre who are open to newsletter swaps. You can even check out their newsletter size and key metrics like open and click-through rates.
Just keep in mind that it's a swap, so you'll have to feature the other author in your newsletter too. 
If you don't have a thriving newsletter (or you want to supplement the one you do have), you can use book promo sites to improve your early book sales.
If you don't have a thriving newsletter (or you want to supplement the one you do have), you can use book promo sites to improve your early book sales. #youpreneur
Click To Tweet
Book promotion sites are an ideal way to get your work out in front of a lot of new potential readers. Like a newsletter swap, you can leverage the audience another person has. Which, if you have a small email list, is a great advantage. 
Here's a list of 127+ book promo sites to get started with. You don't need to do all 127 at once, but choose one or two to try out. Personally, I recommend Ereader News Today. I've had great results every time I've used their service. 
List Your Book in 10 Categories (Not Three)
What if I told you that there's a secret way to get your book listed in 10 categories instead of the three you're originally allowed to choose? 
And, you can choose from all of Amazon's 16,000 categories when you choose your ten, not the select few Amazon shows you originally… 
To find the extra categories, browse through the Kindle Store and take note of any appealing category. What have you found that looks like it'll fit your book? Or, if you want to do it the quick way and include sales data easily, you can use a tool like Publisher Rocket to extract the data from Amazon. 
When you've got your list of ten categories, follow these steps:
Visit the help/contact page in Author Central and sign in to your KDP account.

Go to 'Select an issue' and choose 'My Books.'

Click the option to 'Update information about a book.'

Select 'Browse Categories' in the field that appears.

Click the 'I want to update my book's browse categories' option.

From there, you can either call or email in and ask to change your book's category. In this email, you can add up to 10 categories. 
You have to include the ENTIRE category listing in your email too. So, instead of simply saying you want to enter your book in the 'Anthologies' category, you'll have to send in something like this: 
Kindle Store > Kindle eBooks > Teen & Young Adult > Science Fiction & Fantasy > Fantasy > Fairy Tales & Folklore > Anthologies
Pro Tip: Mention your book's title and ASIN number in the email.
In a few hours–or minutes if you're using Rocket–you can have your book listed in ten categories of your choice! 
Do Some Solid Keyword Research
If you're at all familiar with book marketing on Amazon, you'll know about the importance of keyword research. If you're unaware though, the SparkNotes version is that a keyword is something you can type into a search bar online. 
When marketing books, authors target the words people are searching in Amazon. Basically, you want your book to be the first one that appears when a user types a specific term or genre-related phrase into Amazon. And the first step is to identify the terms you want to target.
Here is how you can get a huge list of keywords on Amazon using the search bar and Amazon's auto-fill suggestion box. 
Make sure you are using incognito mode on your browser to avoid past searches from influencing your results.

Select "Kindle Store" or "Books" as the Amazon category. 

Start typing in a word and note what Amazon suggests in the search box.

Once you've found a phrase that you like, add each letter of the alphabet at the end of your word/phrase, and see what comes up.
An example of Step 4 is: "Entrepreneurship a," "Entrepreneurship b," "Entrepreneurship c," and so on.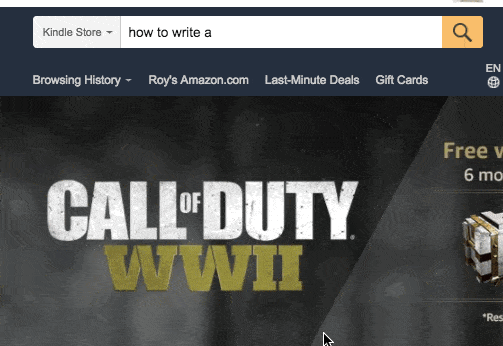 Once you've got a list of keywords that you like, you can even check out how many book sales each keyword is generating. All you have to do is open the kindle store (again, in incognito mode), search for that keyword and click on the first book that comes up. 
When you're on that book's page, find the book's Amazon Best-Seller Rank. This is the book's ranking in the entire Kindle store for that day. 
When you have that ABSR, go to this Kindle Sales Calculator, type in that number and click the big blue button. You'll get an estimate of how many books you'll need to sell a day in order to be competitive for that keyword.
As you can probably guess, writing down every suggestion on Amazon can be time-consuming. However, it's well worth it. Once you have a list of keywords, you can use them in your sales copy, your book title, and the seven Amazon keywords you can choose when publishing your book. 
Again, you can use Publisher Rocket to make the process much faster. 
Final Thoughts
There are a few things to learn about when looking for a way to market your book effectively. You want to get it in front of as many relevant readers as possible. Hopefully, you've found a few interesting strategies you may not have considered before.
Chris founded Youpreneur® in 2015. He is a serial entrepreneur, keynote speaker and author of the bestselling books "Virtual Freedom" and "Rise of the Youpreneur". He hosts our podcast, live events and coaches our clients inside the Youpreneur Incubator. Chris is based in Cambridge, UK.